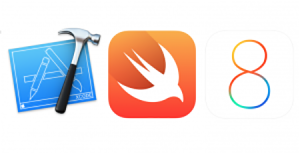 We can create navigation-based application without storyboard in Xcode 6 (iOS 8) like as follows:
Create an empty application by selecting the project language as Swift.
Add new cocoa touch class files with the interface xib. (eg. TestViewController)
In the swift we have only one file interact with the xib i.e. *.swift file, there is no .h and .m files.
We can connect the controls of xib with swift file same as in iOS 7.
Following are some snippets for work with the controls and Swift !

//
//  TestViewController.swift
//

import UIKit

class TestViewController: UIViewController {

    @IBOutlet var testBtn : UIButton

    init(nibName nibNameOrNil: String?, bundle nibBundleOrNil: NSBundle?) {
        super.init(nibName: nibNameOrNil, bundle: nibBundleOrNil)
        // Custom initialization
    }

    @IBAction func testActionOnBtn(sender : UIButton) {
        let cancelButtonTitle = NSLocalizedString("OK", comment: "")

        let alertController = UIAlertController(title: "Title", message: "Message", preferredStyle: .Alert)

        // Create the action.
        let cancelAction = UIAlertAction(title: cancelButtonTitle, style: .Cancel) { action in
            NSLog("The simple alert's cancel action occured.")
        }

        // Add the action.
        alertController.addAction(cancelAction)

        presentViewController(alertController, animated: true, completion: nil)
    }

    override func viewDidLoad() {
        super.viewDidLoad()
    }

    override func didReceiveMemoryWarning() {
        super.didReceiveMemoryWarning()
	}

}

Changes in AppDelegate.swift file

//
//  AppDelegate.swift
//

import UIKit

@UIApplicationMain
class AppDelegate: UIResponder, UIApplicationDelegate {

    var window: UIWindow?

    var navigationController: UINavigationController?

    func application(application: UIApplication, didFinishLaunchingWithOptions launchOptions: NSDictionary?) -> Bool {
        self.window = UIWindow(frame: UIScreen.mainScreen().bounds)
        self.window!.backgroundColor = UIColor.whiteColor()
        self.window!.makeKeyAndVisible()

        var testController: TestViewController? = TestViewController(nibName: "TestViewController", bundle: nil)
        self.navigationController = UINavigationController(rootViewController: testController)
        self.window!.rootViewController = self.navigationController

        return true
    }

    func applicationWillResignActive(application: UIApplication) {
}

    func applicationDidEnterBackground(application: UIApplication) {
	}

    func applicationWillEnterForeground(application: UIApplication) {
	}

    func applicationDidBecomeActive(application: UIApplication) {
    }

    func applicationWillTerminate(application: UIApplication) {
	}

}

Happy Coding 🙂